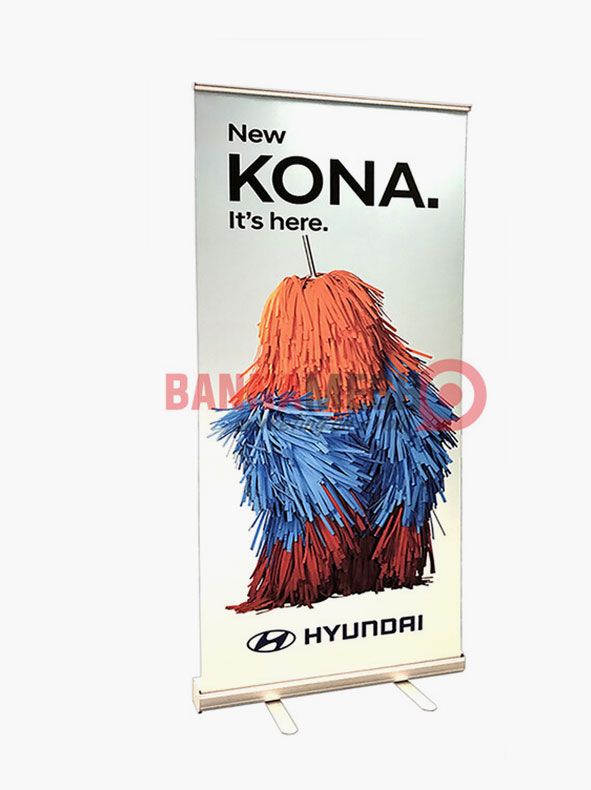 BannaMesh is Melbourne's leading supplier of display banners for exhibitions, trade expos, and events. Our premium pull up banners in Melbourne are a great way to promote your business, brand, or message in a very cost-effective manner. They look very smart and impressive, lightweight, and come complete with a carry bag and full-colour printed banner on curl-resistant material.
The banner can easily retract into the stand and can be set up in a matter of seconds by pulling up the banner and inserting/attaching the pole. The most important properties of our pull up banner in Melbourne are:
they are lightweight and therefore perfect for travelling
they include a free carry bag
these are full-colour digitally-printed banners
they come in a satin banner finish
they are made from high-quality, anti-curl polyester banner material with a block-out layer
dimensions: 850mm W x 2000mm H
Why choose our retractable banners in Melbourne?
When you are hosting a conference, trade show, or an in-store event, everyone knows that time is money. No one has time for complex advertising products that take too much effort, sweat, and time, which is exactly where our display banners in Melbourne should step in! That is right – these are very easy to use and set up. You can do it very quickly and mess-free – especially because they come in a very handy carry bag. So, all you need to do is to opt for our custom-made pull up banners in Melbourne and take your special event to a whole new level!
If you don't have a design ready to go, our team of experienced designers will help you come up with it and create a perfect advertising product for your upcoming event. The best thing about these retractable banners in Melbourne is that they are so easy to assemble. Just pull them up, attach them to a pole, and voila – your banners are all ready and good to go! Just contact our team at BannaMesh to find out more about pull up banners in Melbourne and place your order right now!
Why choose BannaMesh?
We are a family-owned and operated business that cares about its customers. BannaMesh has been in the Australian manufacturing industry since 1975. We guarantee the quality of workmanship and have invested in state-of-art pull up banner and sign printing machinery. Located in the Hunter Valley of NSW, our manufacturing and distribution facility is based at a major Australian transport junction and ensures very fast delivery Australia-wide. Put us to the test today and we are sure that you will not regret it!
Contact Us at BannaMesh
As BannaMesh has been in this business for over 40 years, it has developed a variety of top-quality products such as pull up banners in Melbourne that are perfectly appropriate for your advertising purposes. So, if you want to advertise your company, event, or anything else, just check out our website and find a perfect product for your advertising needs. We are NOT a reseller, so you will deal directly with the manufacturer when you pick us. We employ state-of-art printing machinery and our work can conform to any budget and delivery time. Contact us for a free sample pack or get a free quote today!