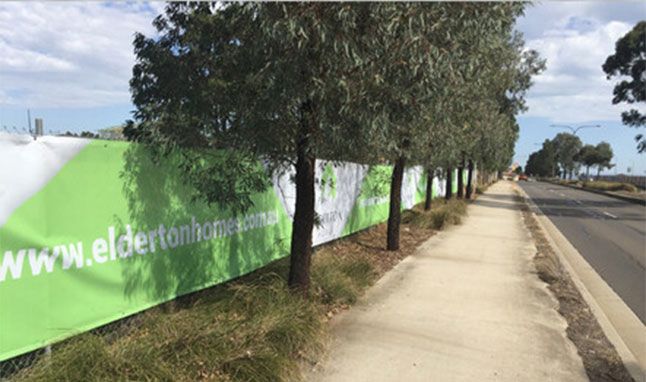 Bannamesh use 13mm Stainless Steel eyelets every 500mm on both the Premium Bannamesh and the Premium Bannamesh Panels. Punched in by automatic machinery these eyelets are strong, durable and will never rust!
It is important to make sure your banners have stainless steel eyelets every 500mm to ensure even distribution of pressure from wind load on your banners. In turn this will make your banners last a lot longer in the harsh Australian environment.
Site Advertising
Site Privacy
Events and Functions
Scaffolding
Promotions
Building Sites
DESCRIPTION
This mesh construction is specifically chosen for image quality & high strength while maintaining ideal air permeability. Formulated for long term UV exposure with the option to upgrade to building wrap standard.
This material is made with an RS10 weave (Ripstop). RS10 is exclusive to BannaMesh and will ensure that you don't get tears in your product, making them last much longer.
SPECIFICATIONS
Weight: +/- 280 gsm
Threads: 12 x 12 per inch
Base Fabric: 100D x 100D (knitted scrim)
Roll Widths: 1.6m, 1.8m, 2.1m & 3.2m
Roll Lengths: 50m
#Flame Retardant: Certification available upon request
Tensile Strength: Warp – 1350 N/5cm, Weft – 1350 N/5cm
Tearing Strength: Warp – 300 N/5cm, Weft – 300 N/5cm
Air Permeability: 2,649 MM/Sec